For the past two years, Laetitia Tan has been working hard to produce her first children's book that was released to the public in October 2021. This included working with Jacob Copper, the illustrator, who helped Laetitia visualise the book.  Spectrum Care staff were treated to an in-person book signing last week and Laetitia's agent (and mother) had to rush to the car to get more copies!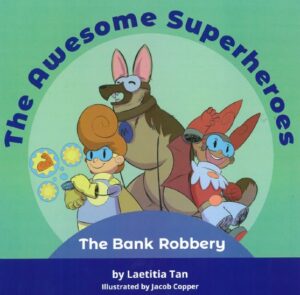 Laetitia loved writing from a very early age and her parents were able to recognise her potential and encouraged her to work with her Speech and Language Therapist to author a book. One book down, Laetitia is already underway planning for her next one.
In 2021 she will start her final year at Carmel College in Auckland and she will be working on her book with her Speech and Language Therapist during the school term.  Laetitia has a great support network – a big shout out to David Setiawan on her team – who all work alongside her to enable her to have control over her own life. She is very self-determined and can't wait to be known as a famous author. Her parents have done some amazing work too keeping up with all Laetitia's appointments, sales, publications, her illustrator, and working with her publicist too!
If you are interested in getting a copy of "The Awesome Superheroes – The Bank Robbery" then visit her Facebook page here and get in touch with her team.
Great work Laetitia!